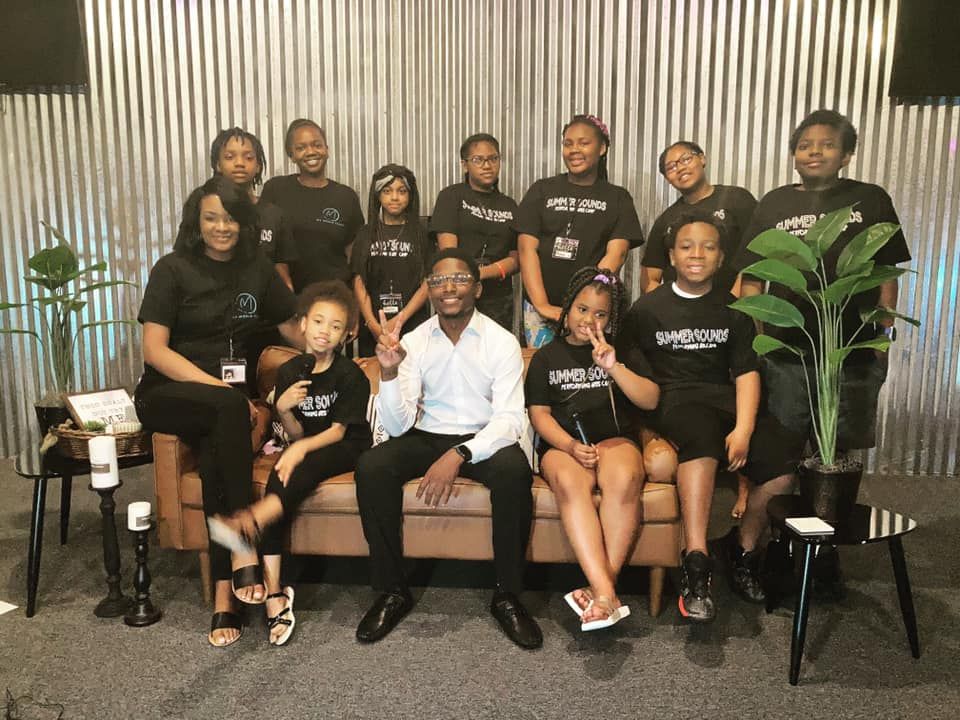 It's always a great day when you can speak to children and young adults to give them inspiration and hope. The Chief Executive Officer of Time Inc Agency; Isaiha Fields - spoke with Latif Hughes II and youth group Summer Sounds Performing Arts Camp about the journey of becoming an Executive in the entertainment business.
As we know, the entertainment business is filled with talented individuals who excel in Music, Acting, Public Speaking, and more. However, each talent is divided by industries, setting people in their respective fields apart. Isaiha Fields is an entrepreneur whose vision is to connect every form of talent in entertainment under one banner. He launched Time Inc Agency to unite the world with groundbreaking talent. Isaiha sat with Executive Producer - Latif Hughes II of The Kingtif Network, giving insight on his early life and upbringing along with the sources of inspiration that guided him into his current position. This allowed for him to put things into perspective of aspiring young adults and children who are currently pursuing or interested in getting into entertainment.
Isaiha had dreams of breaking out in the entertainment industry. He grew up in Cleveland, Ohio - under the influence of musical greats like Michael Jackson, Gerald Leverett, 50 Cent, Lil Wayne, and more. Isaiha would pursue his ambition in 2008, emerging as a young hip-hop artist. However, he would learn about the difference between entertainment and, the entertainment business as a whole.
While attending Tenoroc High School, Isaiha Fields learned the ins and outs of Film and Television by participating in video production. The experience exposed him to behind-the-scenes operations, equipment management, screenwriting, and more, eventually paving the way for his interest in the realm of acting. Isaiha would take part in theatrical plays, school news anchoring, and independent or student films.
Following high school, Isaiha would attend Cleveland State University, where he majored in Business Administration, minoring in Entertainment Studies. During this time, he acquired knowledge about marketing, business structure, contract law, and other tools he deemed were necessary to dominate the industry. Isaiha is also a recent graduate of NYU: Clive Davis Institute of Music Industry Essentials becoming adding to his impressive credentials. Isaiha backed his studies by reading into the success stories of several music industry professionals like Jimmy Iovine, Ice Cube, and Tyler Perry. He would follow up by studying leading companies such as Creative Artists Agency, William Morris Endeavor, United Talent Agency, and ICM Partners gto understand more about the market he was entering.
Isaiha Fields would put his knowledge and experience into practice by creating Time Inc Agency, a premium full-service talent agency with foundations built on entrepreneurship. Compared to its competitors, Time Inc Agency stands out for promoting the value of time, an aspect in entertainment that Isaiha highly regards. He knows that time is the most valuable asset for whatever service his clients need. Time Inc Agency has emphasized that every clients' time and business are valued and respected during service provision with open, honest, and consistent communication.
Apart from valuing time, Time Inc Agency is an established agency for its unwavering passion for media, entertainment, business, and the arts. Their vision is to shape talent, build careers, and create success stories by providing their clients with the platform to entertain, inform, and inspire the world. Isaiha's goal is to utilize his talent agency to unite the world with groundbreaking talent. Time Inc Agency provides talent representation, consulting, counseling, and public relations to a broad spectrum of entertainers to achieve this.
Learn more about Time Inc Agency by visiting the official website. Be sure to connect with Isaiha on LinkedIn, Facebook, Instagram, and Twitter.