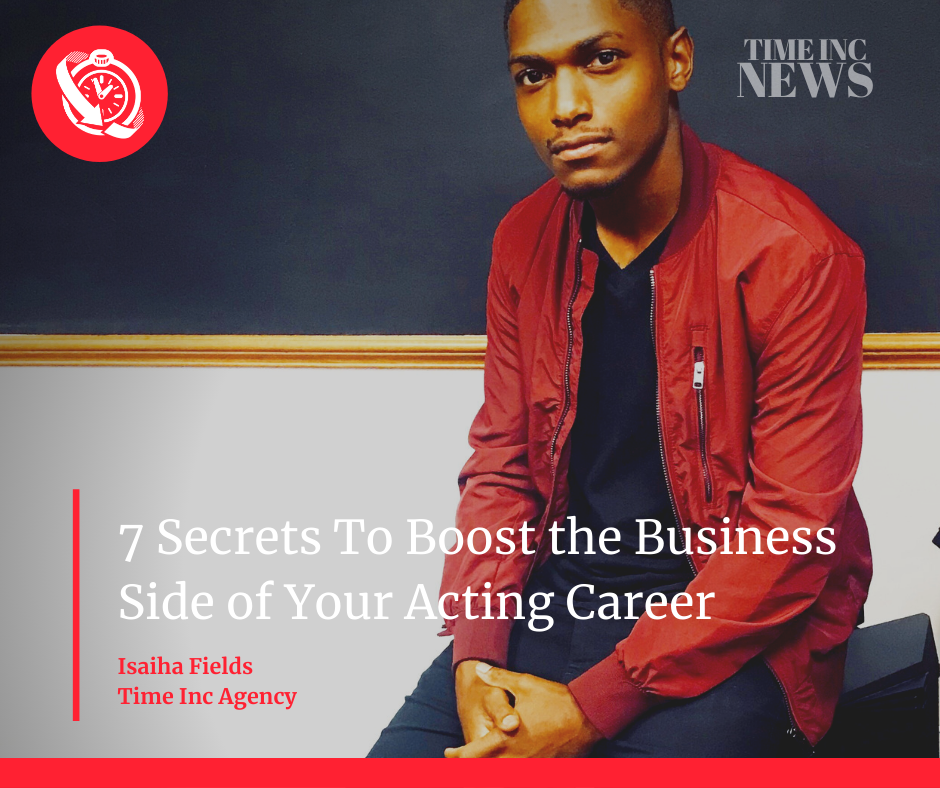 In the beginning, I've noticed a few areas many actors don't consider when it comes to reaching the next level in their careers. These are the same areas that I hadn't even considered in the beginning—and they all boil down to the business side of acting.  
The creative side isn't easy of course, yet when it comes to the more analytical things like having a business plan for your success, many put on their blinders. 
These seven steps are secrets to the success stories you see from your favorite actors and actresses. If executed one at a time, step-by-step, you'll gain a greater sense of control over your destiny. 
1. Budgets  
Every business needs one. Not knowing if you'll have enough to pay for those acting classes or whether you can afford to renew all those important database memberships can create stress that stifles your creativity. If you don't know where to start, track your expenses so you can see where you're spending. Are you investing (not spending) enough on yourself as an actor? Create some goals for the training you want to add to your wish list and schedule it into your budget. Having a target for where you want to be will help you get clarity on your journey.
2. Savings 
You may start small—but start. You owe it to yourself and your career to put at least 10% aside. The idea seems impossible until you set your intentions toward that goal. It helps when you need to make difficult decisions when it comes to spending. 
3. Income Tax 
What you don't know can hurt you. Check with a professional accountant that understands the entertainment industry. Even under a non-industry business, there are business expenses that are tax-deductible. Register yourself through the Secretary of State for whatever state you are in and be sure to open up a business bank account as well. For an acting business, there are things like wardrobe, hair, makeup, office expenses, memberships, headshots, website design, self-tape fees, and subscription expenses. Still don't think this is a big concern? Check again with your accountant. Last I checked, you're able to show a business loss for a number of years while you build on your success. Don't forget to keep your receipts for backup documents.  
4. Knowing When to Incorporate 
If you're just starting out, not yet but keep it in mind. When I asked my accountant advisor, I was told this isn't usually a concern until you're making around $45,000 per year. It's an added expense, more serious paperwork and there really isn't a need until you're having to change your strategy a little because of all those roles you keep booking. 
5. Obtaining A Website 
Advertise yourself like a business. You have to market yourself as your own product. Your product needs to be visible in order to attract the required attention. You want your brand to be obvious. This is also where you can hold all your information together in a neatly organized place to make it easy for the right people to learn about you. 
6. Visibility Strategies 
There is more to just posting on social media. Create your own content. Enter that content in film festivals. Do a video blog or a podcast on something you're passionate about. Do charity events. Volunteer for community fashion shows. Even taking classes can help you meet people in the industry. And do still use social media. Just be sure you have your website on every platform you use and all with the same branding. 
7. Investment 
Once you're a working actor on a consistent basis, it's time to think about what to do with your earnings. Ashton Kutcher has A-Grade Investments (An investment firm). Kim Kardashian is part owner of ShoeDazzle, while others invest in property. Tyler Perry has Tyler Perry Studios for a major example there. Create your own movies. Use your imagination and find different ways to have your money make money for you. 
Well, there you go! Seven secrets to boost the business side of your acting career. Start at the top. Begin to apply these one at a time. If you stick with it, you'll notice the results come in sooner than you think.  
You'll be amazed at how much the intentionality of your efforts will begin to make a difference in your success. and you'll feel more empowered about the direction your career and business are taking you.